Generate & Enhance
1st Party Leads
from dealership service drives, sold databases, CRM, and marketing
Engage customers in the buying, service, and ownership cycle to deliver enhanced leads directly to dealership CRM systems or automotive insurance conversion tools.
Fully Automated with dealership DMS and CRM systems to make your team more efficient.
live offers & sold deal attribution
Landing Pages with real-time equity
It is time to create leads and appointments instead of lists and cold calls
FRIKINtech

VS

Other data miners

Optional w/ QR Code tracking

Fully dynamic showing every car they can buy


Appeal to low funnel shoppers too


Daily feed of payments and landing pages

Works with your Ad Agency

Average of 1,100 transactable loan & lease payments from unlimited lenders on each car

Matching to trim level with customer confirmation

Full tracking of every customer click translated into Digital Body Language

Change what cars you want to acquire every day

On-Demand Vehicle Targeting

Every customer has touched an offer

The only way to make it work

Optional - Made to work with your CRM
Options & Transparency hook more customers
Cast a wider net by giving your customers what they want.  They don't want to be ushered into a tunnel to see payments like other digital retail tools.  They don't want to be stuck on only exploring a newer version of the same model vehicle they're driving right now as some equity mining solutions do.  People want choice!
Let your customers see loans, leases, and what a cash deal looks like from multiple lenders.
Show them how their trade compares to other vehicles in the market.
Let them explore their personal combination of equity and incentives on every vehicle they can buy!

Straight vehicle acquisition percentage of total deals
How many customers come back
How engaged are customers with payments?
How customers react to payments
I want a trade appraisal

31%

31%

I want to buy this car

30%

30%

Different payment in mind

6%

6%

Different price in mind

2%

2%
How important is a responsive landing page?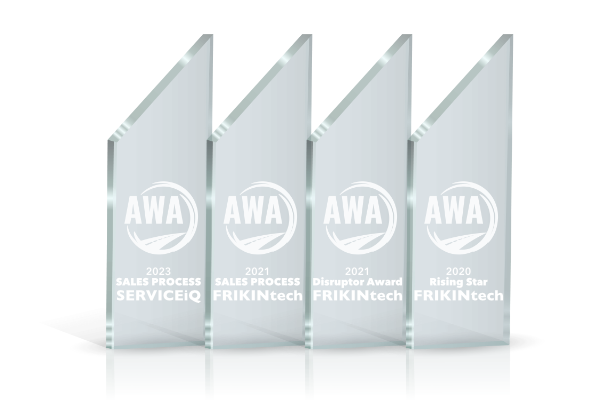 "The partnership with FRIKINtech has been nothing but remarkable"
"FRIKINtech moves fast to modify the product to help dealers move forward in changing markets"
"SERVICEiQ is amazing!
It isn't just for acquiring cars, I'm selling warranties with it too!"
"Without engagement you can't sell a car and FRIKINtech delivers engagement in spades"
"FRIKINtech builds the sexiest stuff"
Loan and Lease Payments for Used & New Cars with Incentives stacked right, equity applied, and accurate taxes/fees for all states




























Pick your time to get more leads with automation and less work!