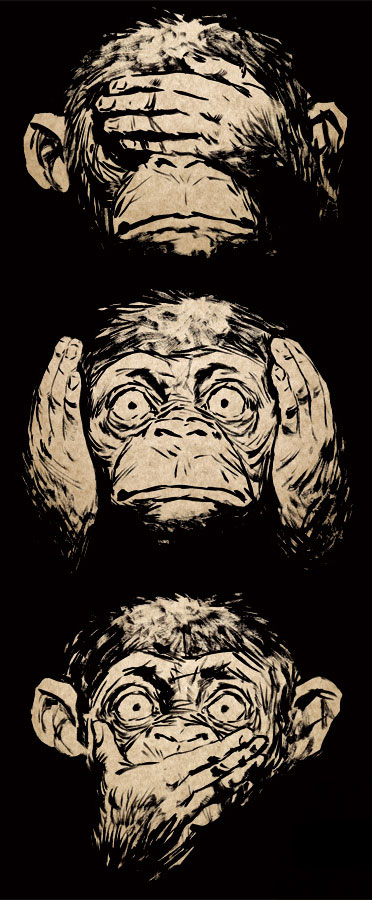 See No Privacy
Hear No Privacy
Speak No Privacy
Oh wait… that's not how it is supposed to work
1. PURPOSE; YOUR ACCEPTANCE; UPDATES. FRIKINtech, Inc., a Delaware corporation (hereinafter, "FRIKINtech" "we" "us" "our"), operates the website FRIKINtech.com (the "Site"), through which we offer software products and related services for certain companies in the automotive industry and their customers (such products and services, collectively, the "Services"). The Site allows you to easily access and use content, including features, resources and other information intended to help you learn about the services we may offer.
FRIKINtech is committed to respecting the privacy of individuals. This Privacy Policy (this "Privacy Policy" or this "Policy") describes the Information that FRIKINtech collects from you, how we protect that Information, how we use and share your Information and our legal bases for doing so, and your rights regarding the Information you provide to us. "Information", as we use the term in this Policy, means any information relating to an identified or identifiable natural person.
By visiting our Site or using our Services, you agree to the terms of this Policy, which is incorporated into and made part of the FRIKINtech Terms of Service located at FRIKINtech.com/website-terms. Please review the Terms of Service and this Privacy Policy. If you do not agree to the Terms of Service or this Privacy Policy, please do not access or use the Site or use the Services. Additionally, if you are located outside United States and choose to provide Information to us, please note that, per Section 7 of this Policy, the Information you provide is transferred to and processed in the United States, among other countries. Your consent to this Privacy Policy followed by your submission of such Information represents your agreement to that transfer.
We may modify this Policy from time to time. When we do, we will provide notice to you by publishing the most current version on the Site and revising the date at the top of this page. If you use the Site following a change in this Privacy Policy, your use will constitute your acceptance of the updated Policy. Accordingly, we encourage you to review this Privacy Policy frequently for changes.
2. SCOPE.
Intended Users. Our Site and Services are intended only for use by adults, either for themselves or on behalf of their companies or organizations, and are not intended for use by anyone under the age of 18 (or the legal age of majority). We do not knowingly collect Information from anyone under the age of 18. If you have reason to believe that a child has provided us with Information, please contact us and we will endeavor to delete that Information from our databases.
Only Information Requested or Tracked by FRIKINtech. This Policy applies to Information which we ask that you provide to us in order to use our Site and/or Services, as well as Information which we obtain by tracking and analyzing your use of the Site and/or Services. This Policy does not apply to information you disclose to us (whether through the Site, via email, or through any other means) without our asking for or tracking it (any such information, ""Unsolicited Information"). Please see the Terms of Service regarding your representations regarding, and our rights in, any Unsolicited Information you send to us.
This Policy also does not apply to Information that you provide or make accessible to parties other than FRIKINtech. Disclosure of Information to any such third parties is subject to the relevant third party's privacy policy. We are not responsible or liable for any third party's privacy policy or practices, even if we link to the third party's services from our Site.
3. INFORMATION WE COLLECT.
Information We Collect Directly from You. While visiting our Site and/or using our Services, we may ask you to provide us with Information that can be used to contact or identify you, including, without limitation, when you complete an interest form. Information may include, but is not limited to, your email address, first and last name, company/employer name, telephone number, and physical and/or mailing address. For purposes of this Policy, please note that Information includes Information you provide about yourself, other individuals within your company or organization on whose behalf you are using the Site and/or Services, and those of your customers whose information you store via the Services.
Usage Data. We may also collect Information that your browser sends whenever you visit the Site or use the Services ("Usage Data"). This Usage Data may include Information such as your computer's Internet Protocol address (i.e., IP address), browser type, browser version, the pages of our Site that you visit, the time and date of your visit, the time spent on those pages, unique device identifiers, geolocation data, and other diagnostic data. When you access the Site with a mobile device, this Usage Data may include Information such as the type of mobile device you use, your mobile device unique ID, the IP address of your mobile device, your mobile operating system, the type of mobile Internet browser you use, unique device identifiers, geolocation data, and other diagnostic data.
Tracking and Cookies Data. We use cookies and similar tracking technologies to track the activity on our Site and hold certain Information. Cookies are files with small amount of data which may include an anonymous unique identifier. Cookies are sent to your browser from a website and stored on your device. Tracking technologies also used are beacons, tags, and scripts to collect and track information and to improve and analyze our Site. You may be able to set your browser to refuse all cookies or to indicate when a cookie is being sent. If you do not accept cookies, you may not be able to use some portions of our Site, or not all features of the Site may operate as intended. Our Site currently does not respond to "Do Not Track" ("DNT") signals, operating as described in this Privacy Policy whether or not a DNT signal is received. If we do respond to DNT signals in the future, we will update this Privacy Policy to describe how we do so.
Information from Other Sources. We may receive Information about you from third parties whom you have authorized to share your Information or who collect your Information in connection with co-branded offerings or services. For example, we may use single sign-on to allow you to enter login information from a third-party platform to access the Site. If you create or log into your account through a third-party site such as Google, we may receive access to certain additional Information from that site. To learn more about the use of data collection technologies by such third-party sites, please visit the applicable site's privacy policy
Investor Information. Per Section 5 of this Policy, we may collect, use, and share Information from and about investors in connection with an investment-related transaction. This may involve the disclosure of Information about investors to third parties to facilitate the implementation, administration, and management of any such transaction.
4. HOW WE USE YOUR INFORMATION. We and our service providers process Information about you where it is in our legitimate interests to do so and not overridden by your rights. We use your Information in order to:
authenticate your identity;
personalize, maintain, and optimize the Site and Services for you, and allow you to participate in interactive aspects of the Site and Services;
notify you of changes and updates to the Site and/or Services;
process your payment information, if applicable;
communicate with you, including (when in line with the preferences you have shared with us) providing you with interest-based information and advertising;
Note: by providing us with your contact Information you consent to allowing us to use that Information to send you Site and other interest-based updates, notices, and advertising. If we do so, we will provide an option for you to opt out of receiving these types of communications.
respond to your comments, questions, and requests and provide customer service and support;
monitor and analyze trends, usage, and activities in connection with our Site and Services and address any technical issues;
support and enhance our data security measures, including for the purposes of preventing and mitigating the risks of fraud, error, or any illegal or prohibited activity;
communicate hiring and employment opportunities and decisions;
perform contracts with our service providers;
comply with applicable laws and respond to legal requests;
carry out any other purposes described to you at the time that we collect the Information.
If you are in a jurisdiction that requires a specific legal basis for processing Information, our legal basis for collecting and using the Information described in this Policy will depend on the type of Information and the specific context in which we collect it but will fall into one of the above categories.
We may also de-identify and aggregate your Information for our own purposes. "De-identified" Information is Information that has been stripped of your identifiers, such as your name, contact information, and other identifying data, such that you cannot reasonably be identified as an individual. "Aggregated" Information is Information that has been combined with that of other users and analyzed or evaluated as a whole, such that no specific individual may be reasonably identified.
5. HOW WE SHARE YOUR INFORMATION.
With Our Service Providers. We use service providers in connection with operating and improving the Site and Services to assist with certain business purposes, such as payment processing, email transmission, data and website hosting, managing our ads, and some aspects of our technical and customer support. These service providers, which include data analytics providers, may access, process, and store Information about you on our behalf for the purposes we authorize, subject to confidentiality obligations.
Compliance and Protection. We may access, preserve, and disclose Information about you (including your messages) to government entities and other third parties if we believe disclosure is in accordance with, or required by, applicable law, regulation, legal process, or audits. We may also disclose Information about you if we believe that your actions are inconsistent with our Terms of Service, or if necessary to protect the rights, property, or safety of, or prevent fraud or abuse of, FRIKINtech or others.
Merger, Sale, or Other Asset Transfers. If FRIKINtech is involved in a merger, acquisition, financing, reorganization, bankruptcy, or sale of our assets, Information about you may be shared, sold, or transferred as part of that transaction. We may also share Information about you with current or future affiliates.
Other Situations. Per Section 4, we may de-identify or aggregate Information about you and share it freely, so that you can no longer be identified. Such Information is not subject to this Policy. We may also provide additional notice and ask for your consent if we wish to share your Information in a materially different way than discussed in this Privacy Policy.
6. HOW WE PROTECT YOUR INFORMATION. The security of your Information is important to us. We secure your Information using industry-standard physical, procedural, and technical measures designed to prevent unauthorized or unlawful access, disclosure, or destruction of Information. However, no data transmission or storage system can be guaranteed to be 100% secure. As a result, while we strive to protect your Information, we cannot ensure or warrant the security of any Information you transmit to us, and you use the Site/Services and provide us with your Information at your own risk. If you have reason to believe that your Information is no longer secure (for example, your FRIKINtech account password may have been compromised), please immediately email us at infosec@FRIKINtech.com.
7. HOW WE STORE, TRANSFER, AND RETAIN YOUR INFORMATION. FRIKINtech is based in the United States. Information about you will be stored in, transferred to, and processed in the U.S. and other countries. These countries may have data protection laws that are different from the laws of your state, province, country, and/or governmental jurisdiction, and, in some cases, the data protection laws in these other countries may not be as protective. We will take all steps reasonably necessary to ensure that your data is treated securely and in accordance with this Privacy Policy and that no transfer of your Information will take place to an organization or a country unless there are adequate controls in place regarding the security of your Information.
We will retain your Information as long as your account is active, and to the extent necessary to comply with our legal obligations, resolve disputes, and enforce our agreements. Please note that, except as required by applicable law or our specific agreements with you, we will not be obligated to retain your Information for any particular period and we are free to securely delete it or restrict access to it for any reason and at any time, with or without notice to you.
8. YOUR RIGHTS TO YOUR INFORMATION. You may at any time request that we update, correct, or delete your Information by emailing us at infosec@FRIKINtech.com. Please note it may take us up to 30 days to process your request. Additionally:
U.S. State Privacy Rights. Certain U.S. states (including, but not limited to, California, Colorado, Illinois, and Virginia) provide their state residents with additional legal rights concerning their Information. If you are a resident of one of these states and are using our Site, you may have the right to: (i) have FRIKINtech disclose further details on the categories and pieces of Information that we have collected about you, including what we share with third parties or affiliates for those third parties' or affiliates' direct marketing purposes; (ii) have FRIKINtech disclose what Information we plan on collecting about you before we collect it; (iii) opt out of our marketing and/or analytics activities; (iv) have FRIKINtech delete any Information which we have collected about you; (v) ensure that FRIKINtech does not sell your Information; and (vi) ensure that FRIKINtech provides you with equal services without discrimination.
As noted above, we do not alter our Site or Services data collection/use practices when we see a Do Not Track signal from your browser.
If you would like to make a state law-related request, please email us at infosec@FRIKINtech.com. Please note that we may ask you to verify your identity before responding to the request, and that we have 30 days to respond to you.
Your Rights Under General Data Protection Regulation (GDPR). If you are a resident of the European Economic Area (EEA), please see Section 4 of this Privacy Policy for a list of the legitimate business reasons why we collect and use your Information. Under the GDPR you have certain additional data protection rights, including the right to: (i) access, update, or delete the Information we have collected on you; (ii) have your Information rectified if that Information is inaccurate or incomplete; (iii) object to our processing of your Information; (iv) request that we restrict the processing of your Information; (v) be provided with a copy of your Information in a structured, machine-readable, and commonly used (i.e., data-portable) format; (vi) withdraw your consent at any time where FRIKINtech relied on your consent to process your Information; (vii) complain to a data protection authority about our collection and use of your Information. For more information on how to lodge such a complaint, please contact your local data protection authority in your EEA Member State. Please also visit https://www.gdpreu.org/the-regulation/list-of-data-rights/ for additional information on your GDPR-specific rights.
If you would like to make a GDPR-related request, please email us at infosec@FRIKINtech.com. Please note that we may ask you to verify your identity before responding to the request, and that we have one month to respond to you.
9. CONTACT US WITH QUESTIONS AND COMMENTS. If you have any questions about the Privacy Policy, please contact us via email at infosec@FRIKINtech.com or by mail at: FRIKINTech, Inc., 28 Walnut St, Suite 230, Williston, VT 05495, Attention: Legal. Additionally, as noted above, you also have the right to lodge a privacy-related complaint with your state or national data protection enforcement agency.