In 2014 one of my Dealer.com coworkers had an idea to put a "Buy This Car" button on dealer websites and present payments to the customer after soliciting their trade and credit information. He believed dealers were the problem for customers when buying cars and technology could move the dealers out of their own way.
He wasn't malicious to car dealers; he was tired of hearing friends and family's frustrations in car buying.
He approached me for feedback about how dealers might react to the idea. My visceral reaction to his idea was disgust. As soon as he said "we'd call it digital retailing" I knew he was much further down this thought track than he let on. Confident other dealers would share my aversion, I solicited the opinion of another former dealership employee who was also overseeing Dealer.com product.
Together with my backup, I informed my misguided teammate that technology has been threatening to replace car salespeople since the telephone was invented. Nobody likes working the details of a car deal, but the only way it can be done is through humans. Car buying is emotional and it takes two feeling parties to move metal. eBay Motors proved 1% of the population will buy a car online, but it never disclosed how many of those purchases required human interaction via email or phone (texting wasn't much of a thing back then).
Millions billions of cars have been sold over the last 100 years. One thing has been true of every car purchase: when numbers were presented by a seller, the buyer had a reaction. And the seller had a chance to respond.
In a car dealership it goes like this: Present the worksheet, shut the hell up, make the customer speak first, and, most of the time, present alternative purchase ideas/options before settling on the best financial route. First pass, second pass, etc. Also known as "it takes two to tango."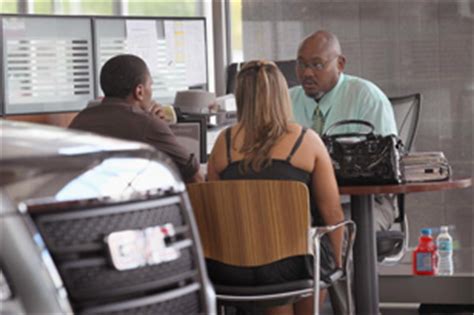 With digital retailing there are no passes and there's no dance. Missing key steps, combined with the absence of sharing the emotional experience, makes completing a sales transaction nearly impossible. This is why many customers enter the digital retailing funnel, and few come out the other end.
To quote my first used car manager, Michael Jobson (currently at First Team Honda), "everybody needs a pat on the butt to tell them this is a good buy before signing." That's the sales agent's job.
Mike's brilliant use of the English language shaped my understanding of the psychology of a car buyer further when he often reminded me "if people were rational about their cars we'd all be driving Hyundai Accents." We worked at Checkered Flag Hyundai, Isuzu, Volkswagen then.
People don't buy cars linearly. They seek other people to communicate their feelings with. And they become exhilarated when they realize they can afford more car than they thought they could.
Where is any of that in digital retailing?
Where is the dealer in digital retailing? Yes, Detroit/Germany/Japan/South Korea, the dealer is necessary. You can say Tesla this and Carvana that, but most of those shoppers are working with a person over there too. It takes two to tango.
Is there a better answer than what has been shown to us as "digital retailing?" You bet! Read Part 2